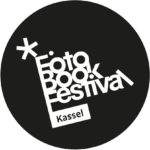 Fotobookfestival Kassel
The Fotobookfestival Kassel is a charitable foundation that has been engaged with the artistic medium of the photobook and has presented it in all its facets, since 2008, in a festival program of international standing. The annual festival shows works by renowned artists and promotes established and emerging talents, publishers, designers, printers, curators and booksellers on an international platform. It was the first festival of its kind dedicated to the photographic book and has founded two novel book awards: The KASSEL DUMMY AWARD for the best photobook mock-up of the year has awarded emerging talents a complete photobook-production since 2010; the KASSEL PHOTOBOOK AWARD assembles the best photobooks of the previous year nominated by international experts in the field. Books entered for both awards are showcased regularly in travelling exhibitions at international festivals and photography events. These two awards are unique in their formats and have been role models for other international festivals and events.

Based on the commitment of the founders of the Kasseler Fotoforum e.V., the Kassel based photographers Michael Wiedemann, Thomas Wiegand and Dieter Neubert, within 10 years a small local initiative has developed into an unequalled institution that receives widespread acclaim. The festival has been managed by Dieter Neubert since 2010 as a non-profit, charitable organization (Kasseler Fotografie Festival gUG). It operates independently of commercial interests and is financed through its admission fees, book sales, and sponsoring, as well as by donations and contributions. The Fotobookfestival Kassel does not receive any regular public funding and pays the standard local rates for its festival venues. Besides its main festival location Kassel, the festival has also been held in cities like Paris (Le Bal) 2012, Beijing (Three Shadows Photography Arts Centre), 2016, Istanbul, Moscow and Lodz, 2017. The festival shows work by internationally distinguished photographers such as Daido Moriyama, David Goldblatt, Martin Parr, John Gossage, Susan Meiselas, Viviane Sassen, Paul Graham and Alec Soth, as well as artist talks, lectures, workshops, reviews, print- and book-exhibitions, special book-events and book markets.

***
Team 2019
Director:
Dieter Neubert
dieter.neubert@fotobookfestival.org

Press & Coordination:
Dieter Neubert
dieter.neubert@fotobookfestival.org

Design:
Steffen Kalauch
design@steffenkalauch.de

***
Open Letter to all friends of the KASSEL DUMMY AWARD
We would very much like to clear up some questions which have reached us recently regarding the terms&conditions of the KASSEL DUMMY AWARD. This is to help everybody to understand and also to give insight into this award and how it is organized and financed.
The KASSEL DUMMY AWARD's main aim is to support emerging artists and help to make their work and book projects accessible to an international audience. We love photography and books, and we are happy if we can help young photographers to get their work fostered. The KASSEL DUMMY AWARD does so by promoting and exhibiting the shortlisted titles on an international exhibition tour and, in the case of the winner, by producing, promoting and publishing the book dummy with a professional photobook printer and publisher. The FOTOBOOKFESTIVAL KASSEL, as the organizer, does not make any financial profit from this award. The publisher can only make an commercial profit if the winning book finally turns into a "best-seller".
The following part of our terms needs clarification:
• MAS Istanbul (… the printing and publishing sponsor …) in cooperation with the Kasseler Fotografie Festival gUG reserves the right – in close consultation with the photographer – to decide the final print-run of the first edition and to make changes to the size and additional features of the publisher's dummy so as to optimize production, if necessary.
• MAS Istanbul (… the printing and publishing sponsor …) in cooperation with the Kasseler Fotografie Festival gUG shall bear the costs of the production, project management and sales of the first trade edition. In return, the photographer shall waive his claim to royalties from the sale of the book and to any licence revenues from the first trade edition. Nevertheless the photographer will get around 50 free copies of the book from the first trade edition for his own purposes.

Our aim is to make the very best out of the book which wins first prize. It's a win-win-situation: if at the end we have a book which meets the highest international standards, it will be good for the photographer, for us, the jury, the printer and all who helped to achieve this goal. That's why we and our printing and publishing sponsor are not interested in making any concessions on the quality of the winning book. We are proud of the fantastic and exciting books that have been entered and shortlisted and won the Kassel Dummy Award prizes.
Nevertheless, because our sponsor and the festival have to bear the whole financial risk of production, promotion and publishing, we need to have the final word – in a very close communication process with the photographer – about what is feasible and affordable. This is because there are many unknown elements that have to be considered: How many copies should be printed, how many volumes the actual book has, the number of pages, the size, the type of binding, different papers, inlays, accessories, embossing etc. etc. To keep the risk low, our printing/publishing sponsor normally goes for a smaller first print-run or tries to simplify things. Nobody knows how many copies of the book will be sold. So usually they have to calculate production and promotion costs at a total of around 15,000 – 20,000 Euros. What is more, they never recoup their costs with a first printrun of usually around 500 copies. (Please consider that the price for the final book has to be 3 – 5 times higher than the pure production price because of distribution costs as well as wholesaler and book-seller margins). In this situation, our sponsor or the festival cannot pay any additional fee to the photographer for the first printrun. The winning photographer gets a minimum of 50 free copies (in 2019 we will try to give 75 copies), depending on the complexity of the book, and the usual fee from possible subsequent print-runs. We are very interested in fair conditions for the participating artists, and we need to assure our publishing partner of this. I personally think that this is quite fair (by the way, free copies of the book are much "safer" than a fee depending on sold copies). Finally, people who cannot accept all these issues should not enter work for our award. The book itself, the world-wide promotion and the free copies have always been very helpful for the winning photographers, even without an extra fee for the first printrun.

Entrance fees and costs

For the 362 books entered in 2019, we have received exactly 14,018.00 Euros in entrance fees (net without tax). This is not a lot of money compared to the costs for such a contest, as we invest it in the following way, always trying to make the best of every Euro: organizing the Dummy Award, including writing and translating several letters and promotional emails, designing logos and ads, designing and running a website, installing and running a registration system, finding sponsors (for the 3 winning books) and partners, finding international exhibition spots for the shortlisted books, unpacking and registering all the books entered, finding international experts for the shortlist and final jury (at this point I would like to say a big thank-you to our jury members, because they are not getting paid at all), organizing trips, accommodation and locations for the juries, preparing and shipping the books to the exhibition events, producing a brochure to promote the shortlisted books, re-packing and returning 3/4 of all books entered, etc. etc. The organisation behind the festival and award, the Kasseler Fotografie Festival gemeinnützige UG, is not getting any sponsoring from companies, foundations or the government and is registered as a non-profit organisation. And last but not least: the festival does not pay any wages at all.

I hope all this helps to make the terms and conditions of our Kassel Dummy Award more transparent and comprehensible. We are happy to clarify more details if anyone asks us. Please do not hesitate to contact us if you have questions, ideas or proposals which help to make the KASSEL DUMMY AWARD better for all of us.

Yours,
Dieter Neubert
FOTOBOOKFESTIVAL KASSEL
Director
***