2020 KASSEL DUMMY AWARD – Entries now open until 17 June!

!!NEWS!! We have decided to postpone the Kassel Dummy Award 2020 process due to the Corona crisis. The shortlist jury session planned for 25 April in Cologne cannot take place because of the European border closings, and the Melbourne PHOTO 2020 Festival, where the final jury session was planned, is postponed until the end of September. We fully agree with the various decisions taken by governments and the EU to slow down the spread of the corona pandemic so as to protect as many lives as possible. In the coming days and weeks we will now work on alternatives for our jury sessions and exhibition plans. We will do this in close contact with all our cooperation partners and friends, and especially with all the photography festivals where the shortlisted books should be exhibited. First of all, we have already decided to extend the Dummy Award registration period until 17 June. So all of you who have had difficulties these days because of poor accessibility to printers etc. now have 2 month more time to solve these kinds of problems. At the same time, we would like to ask all Dummy Award participants to send us a PDF of their dummy, besides the physical version, so that we have the possibility of alternative online / offline jury processes, should the travel restrictions not get better in the coming months. All participants will get more information soon. We will still do our very best to show all shortlisted books at several international photography events as planned in Melbourne (Australia), Zagreb (Croatia), Dublin (Ireland), Istanbul (Turkey), Cluj (Romania), Aarhus (Denmark), Madrid (Spain), Angkor (Cambodia), Rome (Italy), Milan (Italy) and more (to be announced).  Read our terms and conditions here. Entries will be open now until 17 June 2020. Stay informed by subscribing to our newsletter.
***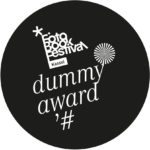 The international dummy competition for the best unpublished photobook mock-up of the year.
The KASSEL DUMMY AWARD is the dummy competition for the best unpublished photobook mock-up of the year. Together with our cooperation partners, the festival invites all photographers worldwide to take part. 50 books will be selected for the shortlist and exhibited in Kassel and at other international photo events. 3 winners will be chosen by an international jury. The winner of the First Prize will be produced and published.