2020 KASSEL DUMMY AWARD – Entries now open until 2 September!
Arriving date of physical books is now 2 September.
!!NEWS!! We have decided to postpone the Kassel Dummy Award 2020 process due to the Corona crisis one more time and now until 2 September. The shortlist jury session is now planned for 5 September in Cologne. The final jury session will be postponed to a new date and location to be announced. We will do this in close contact with all our cooperation partners and friends, and especially with all the photography festivals where the shortlisted books should be exhibited.
We will still do our very best to show all shortlisted books at several international photography events as planned in Melbourne (Australia), Zagreb (Croatia), Dublin (Ireland), Istanbul (Turkey), Cluj (Romania), Aarhus (Denmark), Madrid (Spain), Angkor (Cambodia), Rome (Italy), Milan (Italy) and more (to be announced).  Read our terms and conditions here. Entries will be open now until 2 September 2020. Stay informed by subscribing to our newsletter.
***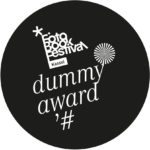 The international dummy competition for the best unpublished photobook mock-up of the year.
The KASSEL DUMMY AWARD is the dummy competition for the best unpublished photobook mock-up of the year. Together with our cooperation partners, the festival invites all photographers worldwide to take part. 50 books will be selected for the shortlist and exhibited in Kassel and at other international photo events. 3 winners will be chosen by an international jury. The winner of the First Prize will be produced and published.