A total of 226 books from 32 countries were submitted for the KASSEL DUMMY AWARD 2022. The shortlist selection resulted in 52 photobooks.

The 4 winning titles are: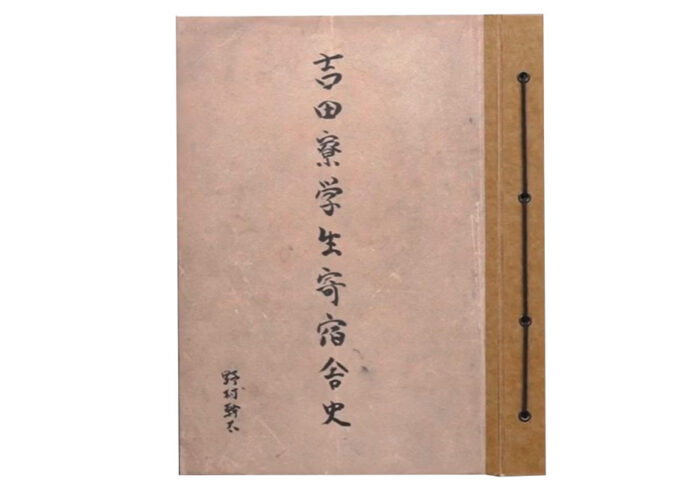 SPECIAL MENTION
Kanta Nomura (JP)
»The Yoshida Dormitory Student's History«
1. PRIZE
Shadow over Shadow by Vitor Casemiro (BR)
The dark side of life – corrupted politics, conspiracy theorists, organized crime, psychopathic killers, false prayers and fake news. Looking at the world today we seem to slide into a "New Noir". SHADOWS OVER SHADOWS plays an elegant fiction / non-fiction game with our perception. What comes as an illustrated script for a shady B-Movie is Vitor Casimeros childhood dream – to make a Film Noir. With the help of images culled from the immense public digital collection of the United States Library of Congress – all made in the US between the 1930s and 1960s, Casimiro has genuinely translated the language of cinema into the language of a photobook. The well-chosen and edited images and the characters he created in his self written script, a Detective, a Femme fatale and a Boxer, constantly draw you further into the story and the book. This visual research into the tropes, clichés and genre conventions of American crime films is an outstanding photobook and a worthy dummy award winner. Congratulations Vitor!
Frederic Lezmi & Markus Schaden, The PhotoBookMuseum, Cologne, Germany
Book video

2. PRIZE
Pleasant Place by Lou Lou van Staaveren (NL)
I am captivated by the physicality of Staaveren's dummy, its aesthetic adherence to seventies popular science books. An unquestionably very Dutch book in terms of design and colourfulness, it also provides a beautiful exploration on the subject of the garden. There is history, philosophical connotations, fantasy, but also domestic memories and revivals of aesthetics and past times in Staaveren's self-made archive, and a delightful visual journey through the pages of the book. A small gem—the type of book my older me would love to come across with at a flea-market in some decades from now.
Natasha Christia – Curator, Writer and Educator, Barcelona, Spain
Artist website


3. PRIZE
A mal tiempo, Buena cara by Bebe Blanco Agterberg (NL)
I have been aware of Bebe's work for some time now. What I appreciate in her work is the always-present cinematographic feeling. 'A mal tiempo, buena cara' has an intricate narrative structure. It drags the reader to an active position. Seeing her book is no longer mere reading. But it also demands us to decipher. A beautiful object used for an important contemporary subject: our relationship with memory and the active choice to forget traumas.
João Linneu – Co-Founder of VOID Publishing House, Reykjavík, Iceland
Book video
SPECIAL MENTION
The Yoshida Dormitory Student's History by Kanta Nomura (JP)
A wonderfully multifaceted book about the 109-year-old Yoshida Dormitory at Kyoto University, the oldest existing student dormitory in Japan. Kanta Nomura began taking photographs there over 10 years ago. Inserts, graphics, documents, drawings and cut-outs alternate with the richly illustrated photo pages and document the history of the dormitory in an impressive way. Today, the university authorities wants to close the building due to dilapidation, but the students want to stay. Kanta Nomura's fulminant book will remain.
Dieter Neubert, Fotobookfestival, Kassel, Germany
Book video
***
THE FINAL JURY

This year our international jury was made up of the shortlisted jury members and representatives from many of the exhibition venues where the shortlisted books were shown. We would like to take this opportunity to thank all the jury members for their participation.
Franek Ammer, Malgorzata Słomska and Bartosz Staszewski – Fotofestiwal and 19 Rivers collective, Lodz, Poland
Mariella Boccadoro, Emilio D'Itri, Annalisa Polli, Marco Rapaccini – Officine Fotografiche, Rome, Italy
Natasha Christia – Curator, Writer and Educator, Barcelona, Spain
Sinem Disli – Photographer, New York, USA
Thekla Ehling – Photographer, Founding Member of The PhotoBookMuseum, Cologne, Germany
Barbara Gregov – Organ Vida Festival, Zagreb, Hungary
Staff of the School and exhibition visitors – Grisart School, Barcelona, Spain
Nazlı & Oğuz – Ka Space for Visual Culture, Ankara, Turkey
Volkan Kızıltunç – Artist & Founder of NOKS Independent Art Space, Istanbul, Turkey
Frederic Lezmi – Photographer and Editor, The PhotoBookMuseum, Cologne, Germany
João Linneu – Co-Founder of VOID Publishing House, Reykjavík, Island
Ángel Luis González and Julia Gelezova – Photo Ireland, Dublin, IrelND
Brendan McCleary – Curator PHOTO 2022, Melbourne, Australia
Dieter Neubert – Director of the Fotobookfestival, Kassel, Germany
Ufuk Sahin – Printer and Publisher, MASMAT, Istanbul, Turkey
Markus Schaden – The PhotoBookMuseum, Cologne, Germany
Jürgen Strasser – Artistic director and organiser of the Wiesbadener Fototage, Wiesbaden, Germany
Yorgos Yatromanolakis & Alexandra Saliba – ZOETROPE, Athens, Greece
THE SHORTLIST JURY
Natasha Christia  | Curator, Writer and Educator, Barcelona
Natasha Christia is an unaffiliated curator, writer and educator based in Barcelona. She was the artistic director of the fourth edition of DocField Documentary Photography Festival 2016. She has curated various exhibitions and regularly contributes essays on photography criticism for international publications and for artists. In 2019, she edited with Lukas Birk (Fraglich Publishing) on Gülistan (winner of the PHotoEspaña Best Photobook Award 2019, International Category).
Thekla Ehling  |  Photographer, Founding Member of The PhotoBookMuseum, Cologne
Thekla Ehling is a trained bookbinder and studied photography in Germany and Ireland. Her photo books 'Sommerherz' and 'Vergizsmeinnicht' have been published by Kehrer Verlag, Heidelberg. She works for magazines nationally and internationally and is represented by Galerie Robert Morat , and Galerie Clair by Kahn. In 2014, she co-founded The PhotoBookMuseum in Cologne. Since 2017 she has been a lecturer, on the subject of photo books, at the universities in Hannover and Dortmund.

Sinem Disli  | Photographer, New York
Sinem Dişli is a photographer from Turkey living in New York. Beside several solo exhibitions her work was also shown internationally in numerous group exhibitions such as A Pillar of Smoke (The Rencontres d'Arles, 2018), You Are What You Eat (Krakow Photo Month, 2019). She was featured as one of the "7 Promising Photographers to Watch at At Arles Festival" by The New York Times in 2018, and was nominated for The Prix Pictet Award in 2019.
João Linneu  | Co-Founder of VOID Publishing House, Reykjavík
Brazilian born, based in Reykjavík, João Linneu (1978) is the co-founder of Void, an independent publishing house focused on photography books, established in 2016. Graduated in Communication, he worked for more than 20 years as Art Director, Head of Art and Creative Director in several advertising agencies in São Paulo and London. He was awarded prestigious advertising and design awards such as the D&AD, Cannes Lions, One Show, and Clio.
Frederic Lezmi  |  Photographer and Editor, The PhotoBookMuseum, Cologne
Frederic Lezmi (*1978) is a photographer, editor and book-designer. He studied visual communication at the Folkwang University of the Arts in Essen and fine arts at the Lebanese Academy of Fine Arts in Beirut, Lebanon. From 2012 to 2015 he lived in Istanbul. Lezmi regularly gives photobook workshops in Germany and abroad (Arles, Istanbul, Ankara, Dhaka) and is a lecturer for photography and book design. He is a founding member and chief curator of the PhotoBookMuseum in Cologne.
Ufuk Sahin  |  Printer and Publisher, MASMAT, Istanbul
Ufuk Şahin studied photography at Hofstra University, NY. Since 2007, he has been part of the core team at MAS as the second-generation manager and partner. In 2010, he founded MASA, a publishing house specializing in facsimiles, photobooks and art-books; which has since published more than 30 books. He is a jury member in the Kassel Photobook Festival Dummy Competition. He is also a photography enthusiast and an avid photobook collector.

***
Exhibitions 
Photobook Week Aarhus, Aarhus, Denmark, 14 – 17 October 2021
More Info

NOKS Art Space Istanbul, Istanbul, Turkey, 4 – 6 December 2021
More Info

space for visual culture and artistic thinking, Ankara, Turkey, December 2021
More Info
PhotoIreland, Dublin, Ireland, August 2022
More Info
Officine Fotografiche, Rome, Italy, 22 March – 4 April 2022
More Info
Grisart, Barcelona, Spain, 21 April – 26 May 2022
More Info
PHOTO2022, Melbourne, Australia, 21 – 22 May 2022
More Info
Fotofestiwal, Łódź, Poland, 9 – 24 June 2022
More Info
Organ Vida, Zagreb, Croatia, 29 June – 8 July 2022
More Info
ZOETROPE, Athens, Greece, July 2022
More Info
Wiesbadener Fototage, Wiesbaden, Germany, 13 – 28 August 2022
More Info
Singapore International Photography Festival (SIPF), Singapore, 1 – 30 Oct. 2022
More Info
Lumenvisum, Hong Kong, 1 September – November 2022
More Info
The PhotoBookMuseum, Cologne, Germany, October/November 2022
More Info
Angkor Photo – Festival & Workshops, Siem Reap, Cambodia, January 2023
More Info
Offsettprojects, New Delhi, India, March 2023
More Info
RAW Fototriennale, Worpswede, Germany, 18 March – 11 June 2023
More Info