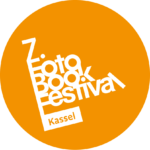 —
MARTIN PARR
HORACIO FERNANDÉZ
ANTOINE D'AGATA
DAISUKE YOKOTA
CHRISTIAN PATTERSON
ERIK KESSELS
WENDY EWALD
JULIÁN BARÓN
TXEMA SALVANS
CARLOS SPOTTORNO
JUAN VALBUENA
JOHN GOSSAGE
THIJS GROOT WASSINK
THOMAS WESKI
Pierre Bessard
—
4 June – 7 June 2015



documenta-Halle
Kassel
Special Guest 2015: Martin Parr
After Daido Moriyama in 2013, Martin Parr was the festival's main guest in 2015. Born in 1952 he is one of the most influential photographers of his time, and since 1994 a member of the prestigious Magnum photo agency. Around 120 books, artists' books and zines by Martin Parr have been presented in Kassel. In addition to the exhibitions, there have been lectures by Martin Parr, Thomas Weski, Gerry Badger and other guests about Parr's works.
Our other guests have been Horacio Fernández, Wendy Ewald, Laura El-Tantawy, Daisuke Yokota, Christian Patterson, Erik Kessels, Antoine D'Agata, Carlos Spottorno, Julián Barón, Txema Salvans, Juan Valbuena, Moritz Neumüller, Gerry Badger, André Principe, Markus Schaden, Akina Books, Riot Books, Pierre Bessard, Thomas Weski, John Gossage, Gerry Badger and This groot Wassink.
Market
With Akina, Antiquariat & Verlag Winfried Jenior, art book cologne, B-B-B-Books, Bemojake, Buch & Kunst Michael Eckel, Café Lehmitz Photobooks, CAMERA, Camera Austria, Dalpine, Danilo Montanari Editore, digit!, Die Nacht, Discipula Editions, Dostoevsky Publishing, Einer books, FH Dortmund, European Photography, Fotogalleriet Oslo, Fotohof, Hermann Lohss, Institut für Buchkunst, k-books, Katalog (DK), Kaunas Gallery, Kehrer Verlag, Kettler Verlag, La Fabrica, MACK, Maria Inc., Mörel Books, Multiple Box, Only Photography, Peperoni Books, Phree, Pierre von Kleist, Riot Books, Rorhof, Spector Books, The Eriskay Connection, THE EYES, The Wiegand, Tipi Bookshop, Unterwegs / Berlinbook, Wanderer Druck, White Press.